Rental Chalet 47A en 47B
Prime location:
The 2 rental chalets are situated on higher ground next to toilet building, with stunning views over the Waal river. Thanks to this view, you will have a unique perspective and experience of the river, nature, the wild Konik horses, the Galloway ox on the other side of the river and the shipping industry passing in front of you.
The chalets are fitted with every conceivable comfort and are fully furnished. The living room is fitted with an open kitchen, a TV and a radio. The bathroom is fitted with a sink, shower and toilet. The chalet is heated with a designer gas fireplace.
There are 2 bedrooms, each with 2 good 80x200cm beds and there is a possibility to use the sofabed for 2 more persons.

---
Red: Chalet 47B Blue: Chalet 47A
---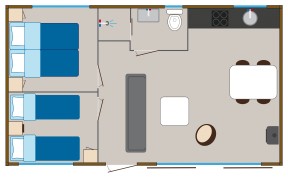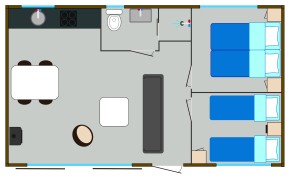 ---
Chalet 47B Chalet 47A
---
Mobile homes Rental 2018

excluding tourist taxes

arrival from 14:00 departure before 11:00 hours

Low season 30/03 to 20/04 and 24/08 to 01/10

Mobile home/chalet

Chalets 47A en 47B

Weekend stay

Fri./Mon.

€ 260,-

Midweek stay

Mon./Fri.

€ 310,-

Week stay

Fri./Fri.

€ 500,-

Mid season 20/04 to 13/07 and 10/08 to 24/08

Weekend stay

Fri./Mon.

€ 295,-

Midweek stay

Mon./Fri.

€ 340,-

Week stay

Fri./Fri.

€ 545,-

High season 13/7 to 10/08

Friday to Friday
€ 685,-
---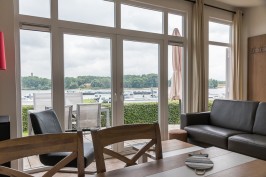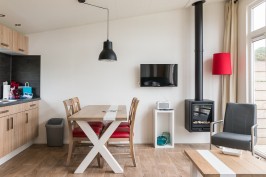 ---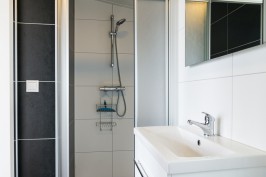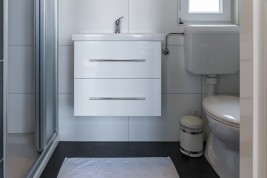 ---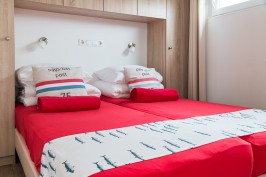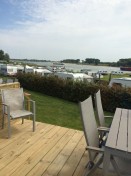 ---
Smoking and pets are not permitted in the mobile homes.
Note:
The rental rates:
Include 4 people. Additional people at € 5.00 per person per day.
In Chalet 47A and 47B there are up to 4 beds and 1 sofabed.
Include gas and electricity.
Exclude tourist tax.
In the high season rentals are only available per week.
If you cancel, the RECRON conditions apply. We advise you to take out cancellation insurance.
Layout of the mobile home