Rental mobile home 3
Caravan for rent right on the waterfront
Quietly situated at the mobile home section of the camping site are our 4 mobile homes for rental. Three of them are right at the waterfront and have a panoramic view over the Waal river and the Millingerwaard nature reserve.
All our mobile homes are comfortably furnished and fitted with every conceivable comfort so as to ensure a pleasant stay. When booking we send you an extensive inventory list as well.
There is a beautiful terrace with garden chairs and a parasol. You can park your car next to the mobile home. Smoking and pets are not permitted in the mobile homes.
The mobile home is in a unique location, right at the water side, boasting river views on all sides.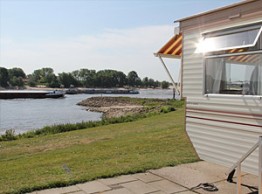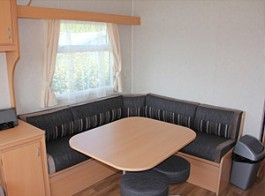 ---
Mobilie Home 3:

Prices 2019 excluding tourist tax

Arrival from 14:00 hours, departure from 11:00 hours

Low season 29/03 until 19/04 and 24/08 until 30/09

Mobile home

Place 1

Weekend

Fri./Mon.

€ 235,-

Midweek

Mon./Fri.

€ 280,-

Week

Fri./Fri.

€ 455,-

Mid-season 19/04 until 13/07 and from 10/08 until 24/08

Weekend

Fri./Mon.

€ 270 ,-

Midweek

Mon./Fri.

€ 310,-

Week

Fri./Fri.

€ 495,-

High season 12/07 tot 9/08

Friday tot friday

€ 605,-
---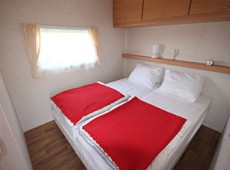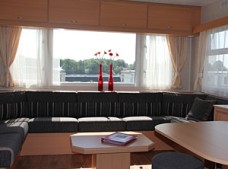 ---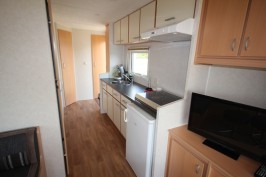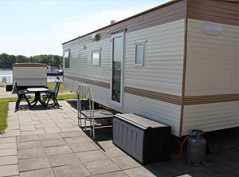 Layout of the mobile home:

Note:
The rental rates:
Include 4 people. Additional people at € 5.00 per person per day.
In mobile home number 3 there are up to 4 beds.
Include gas and electricity.
Exclude tourist tax.
In the high season rentals are only available per week.
If you cancel, the RECRON conditions apply. We advise you to take out cancellation insurance.
Click here for the inventory list
---